home
WELCOME TO MIGHTY SOUNDS 2014
"One of the most unique music summer festivals in the heart of Europe, Mighty Sounds promises three nights crammed with the very elite of punk, punk rock, rock'n'roll, ska, reggae, rockabilly, hardcore and related genres. Come celebrate the upcoming tenth edition of the festival with us!"
2014 TICKETS ON SALE

- tickets now available for 1290 CZK, roughly 48 € (+ ticketing agency fees where applicable)
- check the Tickets section for details
2014 LINEUP
- confirmed:

Dropkick Murphys (USA),

Nekromantix (USA),

ZSK (DE),

Perkele (SWE),

Madball (USA),

Everlast (USA),

The Peacocks (CH),

Winston Francis (JAM),

7 Seconds (USA),

Stick To Your Guns (USA),

Che Sudaka (ESP), Evergreen Terrace (USA)
- check the Lineup section for details
BASIC INFORMATION

- date:

11-13 July 2014

(3 nights)

- location:

Czech Republic, Tábor, Čápův dvůr airport

- more than

150 artists

on

4 live

stages and

4 DJ

stages

- more than

80%

of the line-up is from

outside of the Czech Republic

- wide range of

accompanying activities

– football and netball tournaments, skim board, U-ramp graffiti and a large variety of workshops

- premium Czech lager

Budweiser Budvar for 1,5 €

(0,5 litre)

-

festival food

averages on

3-4 €

- the festival is

eco-friendly

and cares about its waste and the environment

- the festival is

socially conscious

and supports a number of

non-profit organizations
- you can find all necessary information in the Info section of the page
We love football as much as you do so we obviously can't make you miss the World Cup final as well as the bronze medal match! There will be a giant LED screen in the festival area so you could watch your favourite team if they got this far in the tournament. The WC final will start right after the Madball set! Is there a cooler way to get pumped up for the ultimate battle? Whose gonna lift the trophy? Enjoy Brazil 2014 at Mighty Sounds!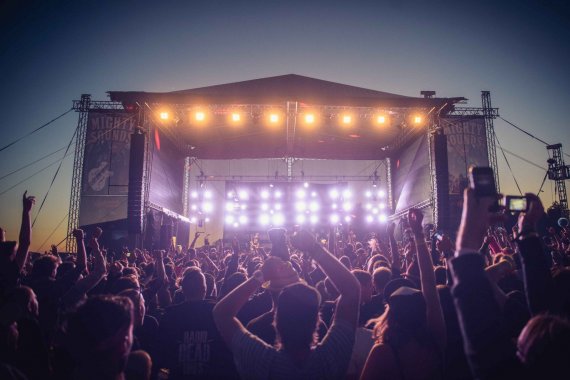 Upcoming events
6.11.2014

Cross Club - Prague

20.11.2014

Cross Club - Prague

Rapid (DE), Discoballs

27.11.2014

Klub Buben - Praha

The Toasters (USA)

4.12.2014

Cross Club - Prague

5.12.2014

Bratislava - Fuga