The festival grounds will be open:
| | | | |
| --- | --- | --- | --- |
| 14.7., Friday | 14:00 | – | 04:00 |
| 15.7., Saturday | 12:00 | – | 04:00 |
| 16.7., Sunday | 12:00 | – | 02:00 |

Parking
A flat fee parking charge is collected at the parking area, which will provide you with the exclusive right to an assigned parking location. The parking fee entitles you to your assigned parking location for the entire run of the festival – whether you come for one day or the entire festival. Parking reservations are not being taken – parking is arranged for once you arrive at the festival site. If you are looking for information about our Parking Camp, you can find it under "Camping" in this section.
During the festival, cars are parked next to each other based on their arrival time. To save space and to make it easier to manage the parking area, it is not possible to request the reservation of a parking space next to your own for the cars of your friends or for any other reason. You can come and go freely during the festival with your car; but, every time you come back to the festival parking area, you will be assigned a different parking place. Both when leaving the parking area and upon your return, we will ask to see your parking card.
Parking fees:
passenger cars: 300,- Kč / 12 €
caravans (campers) and vans up to 3.5 tons: 400,- Kč / 16 €
buses and vehicles over 3.5 tons: 500,- Kč / 20 €
motorcycles and bicycles: 100,- Kč / 4 €  
The price for parking at the festival is good for all three days and it is the same for just a single day or two days.
The above-described parking area is only for the parking of transportation vehicles and it is not possible to camp there. If you want to set up a tent next to your car, you will need to use the Parking Camp. We continue to kindly ask all of our visitors to respect the prohibition against making fires or digging any holes in the airport area. Thank you for your understanding.
Camping area
The camping and parking options have each a different level of services and amenities with a comparable difference in pricing.
Camp Village
this is the traditional, classic type of camping area
there is a use charge of CZK 150 / € 6 per person for the entire festival
a reservation for a site in the Camp Village cannot be purchased in advance
access to mobile toilets, sinks, showers (there is a CZK 40 charge for the shower)
Camp Village DeLuxe
this camping area is more expensive and comes with above-standard services – price is CZK 400 / € 16 per person for the entire festival
the price includes three vouchers for a shower (total value of CZK 120), free phone charging and separate toilets
a reservation (voucher) for the Camp Village DeLuxe can be purchased in advance through pre-sale agencies as well as on-site
the Camp Village DeLuxe area is fenced, guarded and better lit and its higher level of amenities are meant to offer visitors a more comfortable stay with enhanced security and better sanitation facilities, which will serve a smaller number of people
FestiTent Village
FestiTent rents out ready-to-use camping spots on festivals. Forget about the hassle in the car park, dragging your camping gear to the entrance or the fight with your tricky tent. Just bring your 'festival essentials' and enjoy your festival happening from the moment you arrive, Easy and Relaxed!
Are you looking to add a little bit of extra comfort to your camping adventure? Check out which packages are available to make your festival experience even more pleasant!
Why book a FestiTent?
100% guaranteed camping spot
No need to drag all your camping gear
No need to fight over space
24h/24h check-in
No camping stress, only bring your festival essentials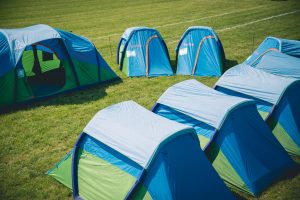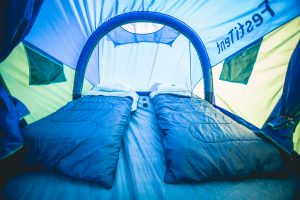 Check out prices and buy FestiTent Vouchers on the FestiTent website only.
Chill Village
Chill Village is a brand new camping possibility that offers accommodation in a separate camping site in comfortable, furnished tents. 24-hour reception is included in the price, the tents are equipped with air mattresses, pillows, cotton covers and solar powered LED lighting. You may break down the price among you and your friends.
Price – 315 €
Accommodation in a comfortable, furnished canvas tent for max. 5 people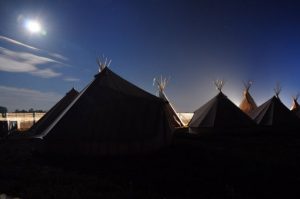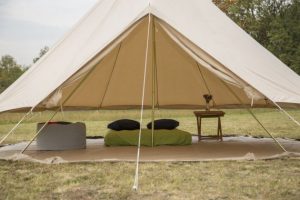 Parking Camp
a special section of the Camping Village, which for this year will have only a limited capacity; the big advantage to visitors wishing to stay in the Parking Camp is that they will be able to set up a tent and camp out beside their car
there should be access to WIFI in the Parking Camp
the price includes two vouchers for a shower per person
a reservation (voucher) for the Parking Camp can be purchased in advance through pre-sale agencies as well as on-site
for those with a Parking Camp reservation, upon arrival at the festival (or if purchased on site upon arrival), the Parking Camp voucher will be exchanged for the appropriate number of parking cards, shower vouchers and wristbands entitling its holders to enter the Parking Camp
there are three Parking Camp options, which we are offering to visitors this year; each option is a complete visitor package – there is an assigned space with a limited number of visitors (people and tents), depending on the option selected.
a) personal vehicle
price is CZK 2.500 / 95 €
visitors have space for their personal vehicle and up to 5 persons
the price includes 15 shower vouchers (i.e. 3 per person)
b) camper, mobile home (up to 3.5 tons)
price is CZK 3.000 / 115 €
access to electricity
visitors have space for a camper, mobile home or a car with trailer, for up to 5 persons with the option to modify the configuration of the space by using e.g. tarps
the price includes 15 shower vouchers (i.e. 3 per person)
c) van (up to 3.5 tons)
price is CZK 4.000 / 150 €
visitors have space for a van and up to 9 persons
the price includes 27 shower vouchers (i.e. 3 per person)
Opening hours for the Camp Village, Camp Village DeLuxe, Parking Camp and Chill Village are
from Thursday July 13, 2017, 6:00 p.m. until Monday July 17, 2017, noon
As in previous years, there will a cafe tent with fresh bakery products and a large beer tent in the camping area.
The organizers are not responsible for the safety of your belongings in the camping area. For this reason, we don't recommend leaving valuables in your tents while you're away. If you want to store your valuables while at the festival, we have available a storage room.
We ask the visitors to respect the prohibition against making fires or digging any holes in the airport area. Thank you for your understanding.
Accommodation in the vicinity of the festival
If you would like to find a place to stay in Tábor or Sezimovo Ústí, you need to recognize that you will probably be staying several kilometers away from the festival site. To get to the festival site there are a number of different local bus routes and a taxi from Tábor to the festival site should not exceed CZK 200 (roughly 8 euros).
You can find information about accommodations near the festival in the Accommodations section of the official website of the city of Tábor. Other sites include Booking.com and the Czech-language site Accomodation in CZ. Prices generally range from CZK 200 up to CZK 1.500 (8 to 60 euros) per person per night without breakfast.