Mighty Sounds on the Beach v Mlékojedech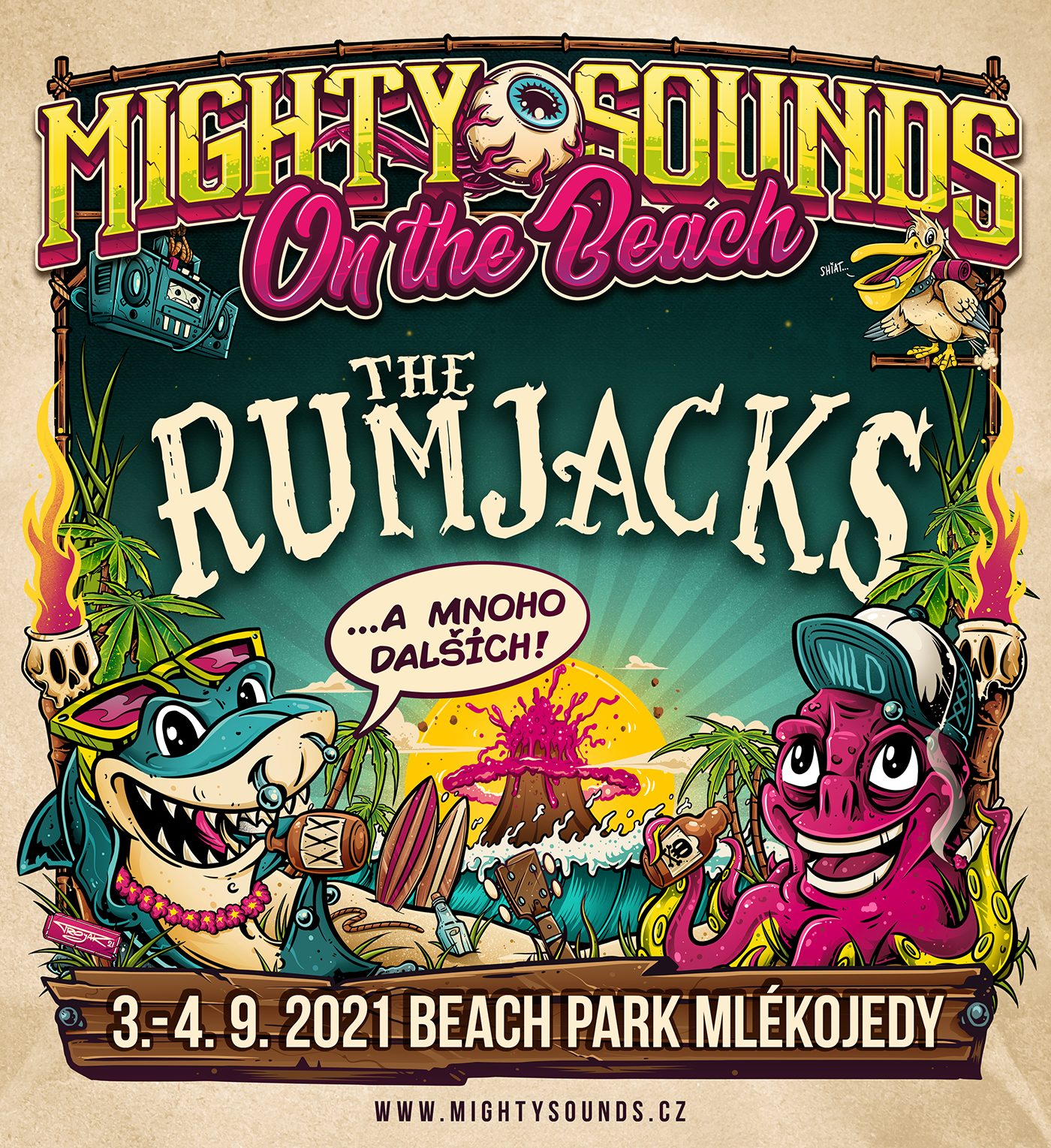 | | |
| --- | --- |
| Date | 03. 09. 2021 |
| Time | 15:00 |
| Social profile | |
You can find following info below:
Tickets
Line-up
Opening Hours
COVID-19 Information
Parking info
The waiting for the 16th Mighty Sounds festival has been dragging on. It is such a long time for us too! And that's why we organize a party at the end of the summer. A little more modest, but not less legendary!
September 2021, from 03 to 04 we want to see you in Mlékojedy for Mighty Sounds on the Beach. And let's make it nice – as per usual in Mlékojedy. In a unique environment you can enjoyeverything that belongs to summer. Of course, the music program will not be neglected – we can already confirm a real foreign hit – the Australian The Rumjacks! Some may remember we mourned for their canceled performance in March last year.
Besides the legends of folk punk – The Rumjacks, there is much more, follow our website and social networks to stay on track. Pre-sale has already started, you can now buy tickets for both days for 35 Eur and we recommend buying a place in the camp right away. As the times are now unpredictable, in case the event would be cancelled, we guarantee a full refund of the entrance fee. Do not hesitate to buy tickets, the capacity in Mlékojedy is limited. We can't wait to see you like never before!
Ticket for both days: 35 Eur
Standard camp for two nights, price for one person: 16 Eur
Parking, price for two days for one car: 16 Eur – SOLD OUT
Camp DeLuxe – person in own tent, price for two nights for one person: 25 Eur
Camp DeLuxe – cottage with two 140 cm double beds, price for two days, the price can be calculated between 2-4 people: 125 Eur – SOLD OUT
We highly recommend you to bring CZK in CASH as the bar is the only place accepting card payments (from 200CZK and higher).
Facebook event: https://www.facebook.com/events/298717128394550/
17:00-17:40
Burning Steps
19:30-20:20
Hippie Chippies
21:00-22:00
Fast Food Orchestra
22:20-23:10
The Rocket Dogz
23:40-0:30
Pirates of the Pubs
17:40-18:40
United Flavour
Sound System
22:30-23:15
Frankie & The Deadbeats
01:00-05:00
DJ's Rambo a Zadnice
Opening hours:
Area: Friday 14-05, Saturday 9-05, Sunday 9-12
Camp and parking:  Friday 12 – Sunday 12
Main entrence: Friday 12-00, Saturday 9-00
Cash box parking: Friday 12-02, Saturday 9-21
COVID-19 Information
Upon arrival, everyone must prove that one of the following conditions is met:
Have a negative RT-PCR test not exceeding 6 days old,
Have a negative POC (so-called antigenic) test not exceeding 2 days (48 hours) old,
Have a laboratory confirmation of having recovered from covid-19 disease in the period not longer than 180 days before the day of the event,
Proof of having received BOTH doses of vaccine against covid-19, at least 2 weeks before this event
People should respect 2m spacing or have a respirator. At indoor events the respirator is obligatory. Accepted respirator is without an exhalation valve of min. class FFP2 (KN95 / N95).
We will check the QR code on your phone or printed at the enreance. If the document you are presenting does not contain a QR code, you will need to present the original certificate with your signature and stamp, or show the original email in which you received the certificate.
Parking
We kindly ask all who plan to arrive in Mlékojedy in September to respect that it is not possible to park freely in the vicinity (along roads, in Mlékojed, etc.). We would like to organize an event that will not cause any inconvenience to anyone. Thank you for your understanding!
For all those who will arrive by car without a secured parking space – we have a few tips on where to leave your car! You can park in Neratovice and then walk (or take a taxi) to the Beach Park Mlékojedy – see the map here:
Parking at the winter stadium – 2 km
The Train station – 2 km
Parking at the railway station – 2 km
Na Skalkách Parking – 2.3 km
Guarded parking Na Výsluní – 3 km
You can still purchase tickets and vouchers for camps – but 50% of the tickets are sold at the moment, so do not hesitate. Thanks to everyone for the support in the difficult double-season! We are looking forward to see you so much!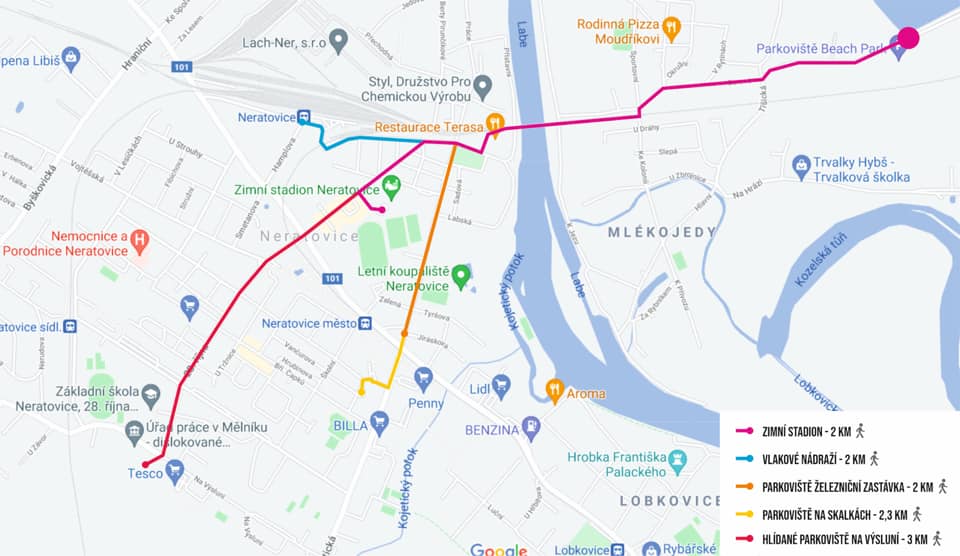 Tickets