MIGHTY SOUNDS 2017 TICKET PRESALE 
TICKET TYPES AND PRICES ON SALE NOW
STANDARD TICKETS – 2000 tickets
Early bird standard tickets  – SOLD OUT
2. Edition of standard tickets (48 EUR) – SOLD OUT
3. Edition of standard tickets (52 EUR) – SOLD OUT
ON SALE NOW: price – 56 EUR (form above or GoOut)  – limited edition available until 13 July 2017 
BACKSTAGE TICKETS 
– 110 EUR form above or GoOut) – limited edition of 200 tickets available until they sell out
– backstage ticket allows you to visit both the festival and the backstage area, where there is a backstage bar (gives you a perfect opportunity to meet some of the bands!) and a separate parking and camping site with hygienic facilities that can be used for free; included in the price is also one hot meal for each festival day
CAMPING TICKET TYPES AND PRICES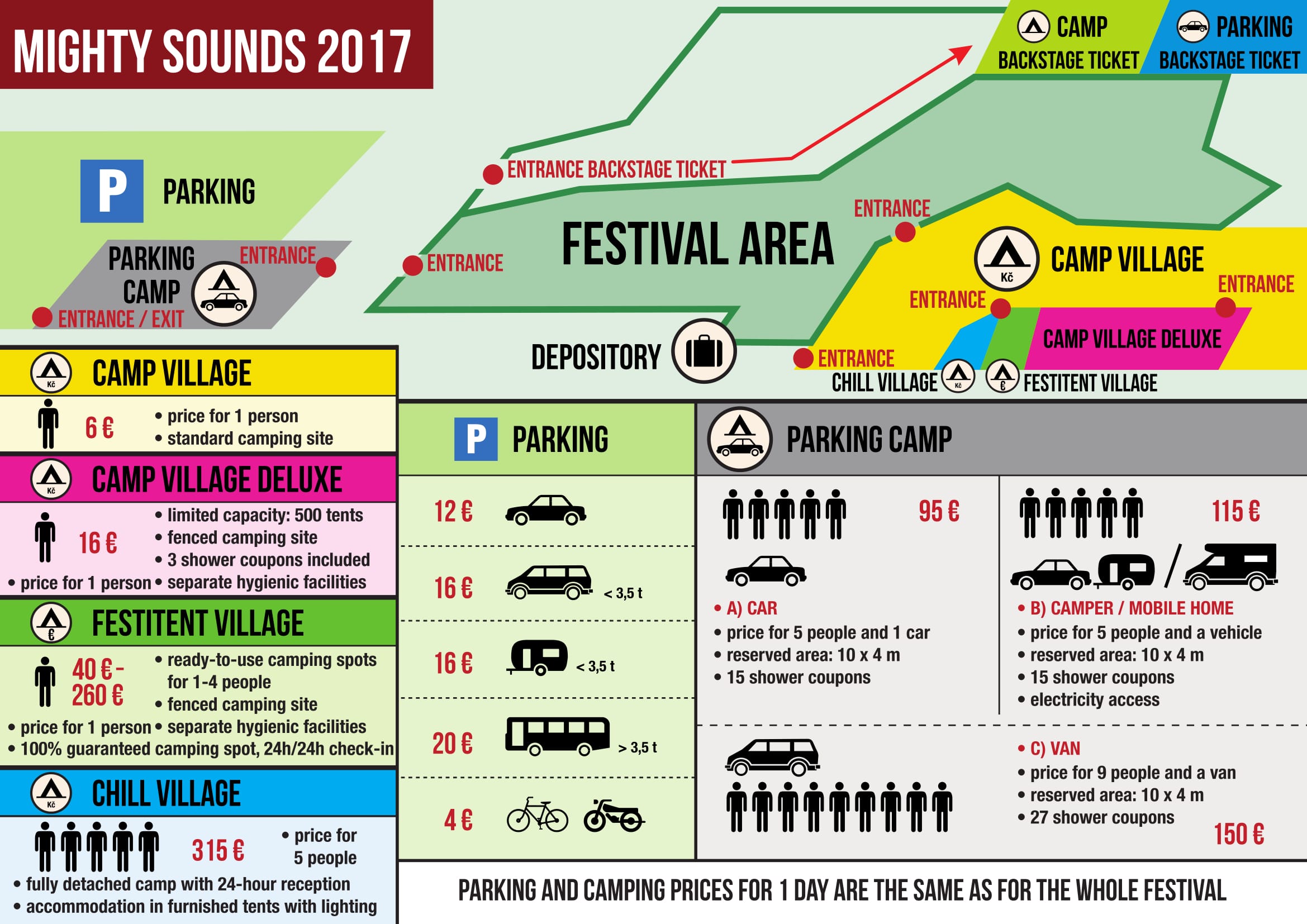 For more information regarding Camping and Parking possibilities at Mighty Sounds 2017, see section Info, sub-section Site.
CAMP VILLAGE DELUXE 
– 16 EUR (form above or GoOut)  – limited edition of 500 tickets available until they sell out
– this ticket allows you to stay in a section of the camping site that has limited capacity and comes with above-standard services (like separate toilets and showers). Please note that parking is not included.
PARKING CAMP
Parking Camp gives you the possibility to place your tent right next to your car, caravan or van. You are in fact buying designated space where you can put up a limited number of tents and where a limited amount of people are allowed to stay. You may break down the price among you and your friends. Three free shower coupons per person are included in the price; WiFi connection should be available (but is not guaranteed).
a) 95 EUR  (form above or GoOut)  – car (reserved space 10×4 m for one car and 5 people at maximum)
b) 115 EUR (form above or GoOut)  – caravan (reserved space 10×4 m for one caravan and 5 people at maximum, electricity available – own cables needed!)
c) 150 EUR (form above or GoOut) – van (reserved space 10×4 m for one van and 9 people at maximum)
FESTITENT VILLAGE 
Feeling Lazy? Book a pre-pitched FestiTent for a carefree overnight stay at Mighty Sounds.
The Mighty Sounds Festival is a unique three-day music event, which is annually held in July near the Czech City of Tábor. The festival focuses primarily on punk and punk rock, rock'n'roll, hardcore, reggae, ska, rockabilly, indie rock and other styles of music that are derived from, or closely related to, these styles.
Come to Mighty Sounds without dragging along your camping gear, queuing or fighting for a place. Select your FestiTent and we'll get everything ready for your arrival.
Besides comfortable tents, there is also the possibility to order additional camping necessities and services. Look up what you need and start your carefree Mighty Sounds weekend now!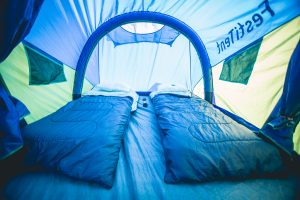 CHILL VILLAGE 
Chill Village is a camping possibility that offers accommodation in a separate camping site in comfortable, furnished tents. 24-hour reception is included in the price; the tents are equipped with air mattresses, pillows, cotton covers and solar powered LED lighting. The price includes three vouchers for a shower (total value of CZK 120), free phone charging and separate toilets. You may break down the price among you and your friends.

– 315 EUR (form above or GoOut)  – accommodation in a comfortable, furnished canvas tent for max. 5 people
PRESALE OPTIONS
I. ONLINE – MIGHTY SOUNDS E-SHOP
The easiest, cheapest and most customer-friendly way to purchase Mighty Sounds 2017 tickets is to use our e-shop. You can only pay by card and will receive your tickets in the form of an e-ticket.
II. TICKETING AGENCIES
a) GoOut
All tickets are available in the form of an e-ticket through the Czech-based ticketing agency GoOut. Here you will get the very same prices as stated above.
b) AD Ticket
For German, Austrian and Swiss customers the easiest way to buy their electronic tickets is through AD Ticket, either directly on their webshop, or through the website of the agency. In Germany, standard, hardcopy tickets may be bought in one of the 2400 stationary outlets.
c) JoyStore
For customers from Poland the very best way to buy their tickets is through the ticketing agency JoyStore. The PLN ticket prices are in line with the prices shown above; however, a modest commission fee is added to the price.
All prices include the effective amount of VAT (15%).